24th General Assembly
of the International Dance Council CID
The General Assembly of CID is the highest level event in the field of dance. It is held every two years, usually in a different country.
  The 24th General Assembly will take place on Monday 13 December 2021 at Palais de l'UNESCO in Paris.
If you are not a CID Member
To apply for CID membership send your professional profile (CV, bio, resume).
If you are a CID Member
Send General Assembly participation fee 35 US dollars (or 30 euros). Send membership fee for 2021 and 2022 since membership is renewed in December. You can nominate other dance professionals for CID membership so they can attend with you.
If you need a visa or a formal invitation letter
Confirm your postal address where letter will be sent. Contact the Embassy of France in your country, read visa information in the Paris Section website before you apply.
If you need financing
CID does not provide assistance for travel or accommodation. You can apply to your country's National Commission for UNESCO and to public or private sponsors with the formal invitation letter.
List of CID Members attending
Check that your name is in the list featured at the Paris Section website. This list will be handed to the UNESCO Security Service to allow you to enter the building and to issue a visitor's badge. Visit www.unesco.org in 6 languages.
Informal meetings
Sunday 12 through Wednesday 14 December from 18:00 to 22:00 at UNESCO, 1 rue Miollis (metro stations Sèvres-Lecourbe or Cambronne or Ségur). Leave your passport at the gate and come to Bâtiment Miollis bureau 8.41.
Since the Assembly is a purely administrative event, try to attend at least one informal meeting to discuss with CID members and staff.
Travel agency
For flights, visa, low cost accommodation and general information you can contact the specialized travel agency LUMEN TRAVEL, Mr. Mansour, WhatsApp +30 690 688 9977   info@lumentravel.com
  For updated information visit regularly  www.paris.section.cid-world.org/ga-2021
  We look forward to seeing you in Paris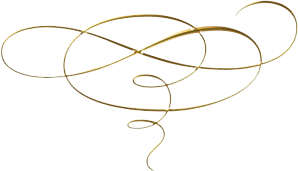 General Assemblies of CID
23rd General Assembly of the CID
Palais de l'UNESCO, Paris, France, 04/12/2019
http://Paris.Section.CID-world.org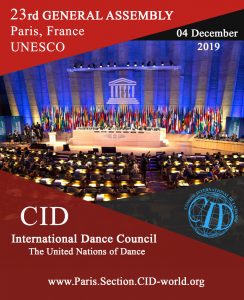 22nd General Assembly of the CID
Old Parliament, Athens, Greece, 17/12/2017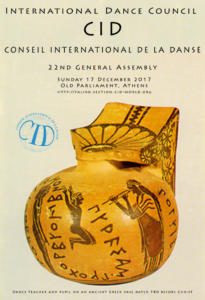 21st General Assembly of the CID
Palais de l'UNESCO in Paris, France, 21/12/2015     http://paris.section.cid-world.org
20th General Assembly of the CID & 36th World Congress on Dance Research
Hotel Azimuth, Saint Petersburg, Russia, 03/11/2013
19th General Assembly of CID
Kadir Has University, Istanbul, Turkey, 27 November 2011
18th General Assembly of CID
Gran Teatro Cervantes, Malaga, Spain, 19/07/2009
17th General Assembly of CID
Istanbul Technical University, Istanbul, Turkey, 14/04/2007
16th General Assembly of CID
Palm Beach Hotel, Larnaca, Chyprus, 13/11/2005
15th General Assembly of CID
Historic New Orleans Collection, New Orleans, Louisiana, USA, 04/06/2003
14th General Assembly of CID
Palais de l'UNESCO, Paris, France, 27/06/2001
13th General Assembly of CID & International Symposium & International Dance Festival
Seoul, South Korea, 07-08/10/1998
12th General Assembly of CID
Sevilla, Spain, 1996
11th General Assembly of CID
Torino, Italy, 1994
10th General Assembly of CID
Pyongyang, North Korea, 28/09/1992
9th General Assembly of CID
Belgrade, Yugoslavia, 19-20/09/1990
7th General Assembly of CID
Nimes, France, 1988
6th General Assembly of CID
Paris, France, 1986
5th General Assembly of CID
Paris, France, 1984
4th General Assembly of CID
Stockholm, Sweden, 1982
3rd General Assembly of CID
London, UK, 1980
2nd General Assembly of CID
Köln, Germany, 02/07/1977
1st General Assembly of CID
Stockholm, Sweden, 01/06/1975